Are You Ready For The Ultimate TreeTop Adventure?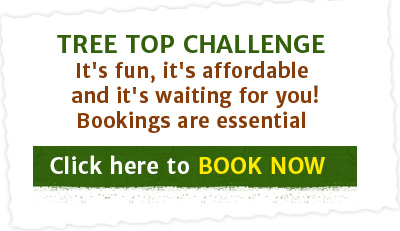 Are you ready for the thrill of flying through the tree's, the satisfaction of conquering your fears and creating unforgettable memories?
The TreeTop Challenge does just that!
We are Australia's first TreeTop Adventure Theme Park and is the most exciting nature based adventure on the Gold Coast & Brisbane!
Three Amazing Adventures on the Gold Coast
The TreeTop Challenge is located at Tamborine Mtn and inside Currumbin Wildlife Sanctuary. Both locations are absolutely unique and unforgettable!
Mount Tamborine is home to the Canyon Flyer, Australia's largest guided zip line tour and Australia's largest High Ropes Adventure Park with over 100 adrenalin pumping TreeTop Challenges spread over 6 courses, spanning through 9 acres of un-spoilt natural bushland combining rope and wire challenges.
Inside Currumbin Wildlife Sanctuary there are 80 amazing TreeTop Challenges with 12 HUGE ziplines including the huge croc shock course where you literally take a series of flying foxes over crocodiles! It's not for the faint of heart, it's great fun, it's exciting and, with our expert supervisors and sturdy harnesses, it's also completely safe.
All our adventures offer an amazing range of unforgettable outdoor experiences and memories. We appeal to dare-devils of every level, its time to build your confidence, get your adrenalin pumping, and have a whole lot of fun at our tree top theme parks!

Canyon Flyer Zipline Tour Now Open!
Two unforgettable Adventure Locations on the Gold Coast
Our Adrenalin Pumping Tree Top Adventures
Check Out Totally Wild and the Great South East Featuring TreeTop Challenge:
At the TreeTop Challenge we also cater for groups of any size:
Check out what our customers say: