TreeTop Challenge inside Currumbin Wildlife Sanctuary is an amazing location for a full day of Adventure & Action
Currumbin TreeTop Challenge
28 Tomewin Street
Currumbin
Queensland
4223
Australia
Phone:
1300-881-446
Currumbin TreeTop Challenge is located inside Currumbin Wildlife Sanctuary which is located on 28 Tomewin Street Currumbin Queensland 4223
Directions By Car
From the south
Travel along the Pacific Highway onto the Gold Coast Highway at Coolangatta. From there, follow the highway to Currumbin and take a right turn at the Currumbin Hill lights into Tomewin Street.
From the north
Follow the Gold Coast Highway to Currumbin. Follow the highway over the Currumbin Bridge and onto Currumbin Hill. At the bottom of the hill turn left at the lights into Tomewin Street.
From the M1 Motorway
Follow the M1 Motorway and take exit 95 to Stewart Road. If coming from the south, turn right over and drive over the highway. If coming from the north, keep left when exiting. At the lights at Tugun where Stewart Road joins the Gold Coast Highway, turn left at the lights, follow the Gold Coast Hwy to the Currumbin Hill lights and turn right into Tomewin Street.
Parking is available directly opposite the entrance to Currumbin Wildlife Sanctuary at a fee.
Transport Shuttle Service
There is a bus transfer service direct to Currumbin Wildlife Sanctuary that runs daily and is available for pickup from Surfers Paradise, Mariners Cove & Broadbeach. For more information, please click on the image below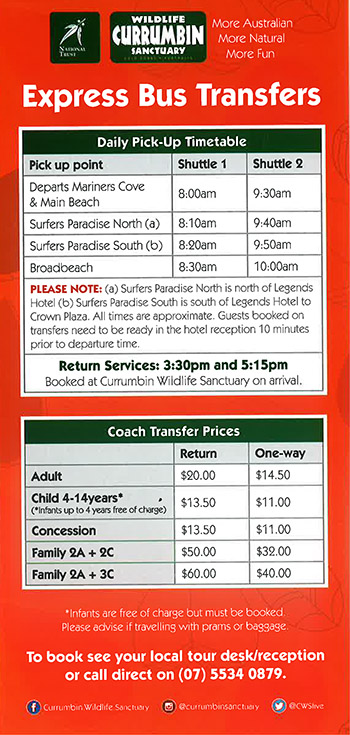 Located inside Currumbin Wildlife Sanctuary this High Ropes Adventure Park will get your adrenalin pumping. With 80 huge TreeTop Challenges including 11 insane ziplines including the awesome Croc Shock where you literally zip line over Crocodiles we guarantee you will have an unforgettable day of thrills, action and adventure.
There are 5 big courses at currumbin where you will be traversing very high in the tree top's through the pristine bushland while keeping watch for Tasmanian Devils and over Dingo's howling at you as you pass by their enclosures After your experience at our High Ropes Adventure Park there is an abundance of other activities to do at Currumin Wildlife Sanctuary including hand feeding Koalas & kangaroos, taking part in the many wildlife shows and also having a meal in one of the many cafes.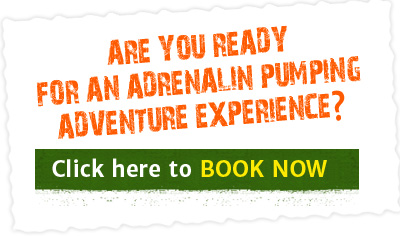 Currumbin Wildlife Sanctuary
The Currumbin Wildlife Sanctaury is an
Iconic Gold Coast tourist destination
where you can enjoy exciting, interactive displays, presentations and dining experiences. Nestled within 27 hectares of lush eucalyptus and rain forest, each day brings visitors face to face with extraordinary wildlife in shows and encounters. To view more about Currumbin Wildlife Sanctuary and what you can experience while attending TreeTop Challenge Currumbin, please goto
http://www.cws.org.au/
for more information.