Are you ready for the Adventure Experience of a lifetime?
At the TreeTop Challenge you will have the ultimate adventure experience as you undertake our 100+ TreeTop challenges spread over 6 massive courses, spanning through 10 acres of un-spoilt natural bushland combining rope and wire challenges.
You will Hang about in the trees, balance on the suspended bridges, jump on 10 huge flying foxes with some spanning over 130 meters - it's great fun, it's safe & appeals to the dare devil in everyone!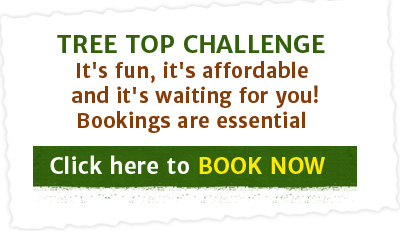 Self Paced Adventure Tour
The TreeTop Challenge is a self paced adventure tour, which means we don't force you to stay with people you don't know! You get to go at your own speed while you are on the courses.
Expect to tackle your fears as you leap out on our Tarzan Swings!
Expect to have a huge adventure!
Expect to feel the adrenalin pumping as you sour over the valley 30 meters high on our flying foxes
The Adventure Attraction for Brisbane, Gold Coast & South East Queensland
The TreeTop Challenge is now so large that its good to give yourself half a day to truly enjoy the your time with us. The TreeTop Challenge is now regarded as the
Adventure Attraction
for the Brisbane & Gold Coast because you gain such a unique & unforgettable adrenalin pumping experience!
The TreeTop Challenge is loads of fun & it's Safe!
TreeTop challenge has 6 highly trained individual managers in vertical rescue and outdoor recreation to make sure no matter what situation could ever arise we would be more than capable of handling it with the utmost professionalism and capability. All our staff are rescue trained and are timed throughout our course to maintain their efficiency in getting to an individual regardless of where the distressed person might be in our park.
The TreeTop Challenge prides itself on its safety record putting the safety of the individual as its absolute highest priority. We maintain the highest safety standards through our highly skilled staff, safety procedures and our equipment.
State of the art safety equipment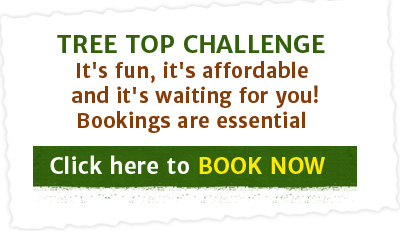 The TreeTop Challenge uses a state of the art Smart Belay System making us one of the safest high ropes activities in Australia. The smart belay system works by communicating with each other and will not let the participant disconnect both carabineers at any stage throughout the park. Therefore, course participants are unable to disconnect and fall from wires or platforms.